It's all well and good having a beautiful looking lawn or new patio, but if there's an ugly drain cover in the middle of it, the look is nowhere near as good. With that in mind, here's a selection of tips on how you can successfully cover a drain your garden with something a bit more pleasing to the eye.
But before we start, let me just answer the age-old question that always comes up with these types of projects; can you cover a drain in your garden? 
The answer is yes, you can cover a drain in your garden, but with a caveat. Any method you use to disguise the drain should not be permanent. As you can imagine, water companies might need to access the drain at any time, so make sure when covering it, you can easily uncover the drain.
With that out the way, here are the best ways to disguise a drain cover with a non-permanent approach that will look great and will not cost the earth. 
The solutions here range from the quick, easy, and cheap, up to the more expensive options. 
1. Use plants to disguise the drain cover
When researching plants that are best to disguise drains, the options available were limitless. You can get one big plant if you do not want to choose multiple plants or go for multiple plants with unique designs of the materials used for an elaborate arrangement.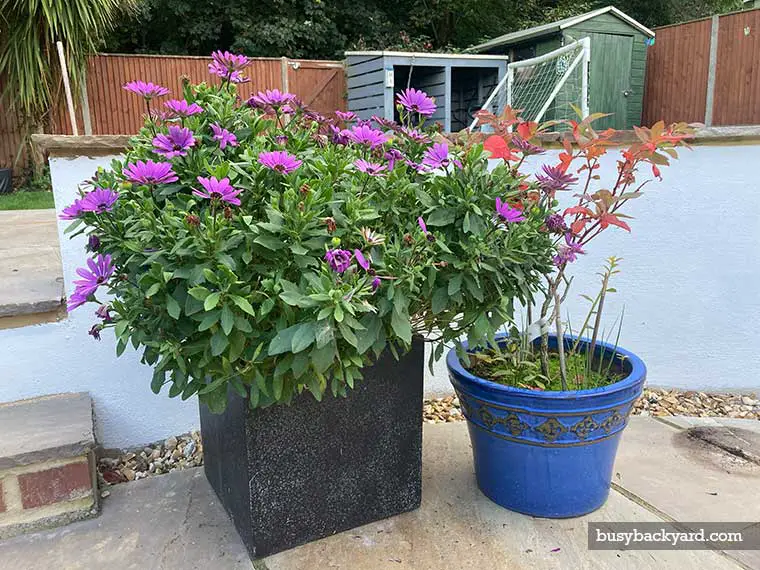 However, it boils down to how much you are willing to spend on the whole setup. Especially if you are on a budget as the fancier the setup, the more it costs. Some of the options we considered were potted plants. 
Potted plants are a perfect choice since they are easy to move if needed for an immediate drain inspection. There are also various types of potted plants, from broad, puffy bushes or hanging leaves. 
2. Buy a fake "mock rock" to cover the drain cover
If it fits in with your garden style, a fake rock could be just the thing to cover a drain in your garden. You can buy large fake rocks on Amazon, and they come in a range of colors, one of the most popular being shown in the photo below.
3. Incorporate the patio stone onto the drain cover
We recently had a new patio laid and were given the option by the builder to have the drain cover swapped out for a new one which let him place stone over it so it seamlessly matched the rest. 
If you are not sure what I mean, here's a photo of that drain cover as it now appears on our patio – see how well disguised it is!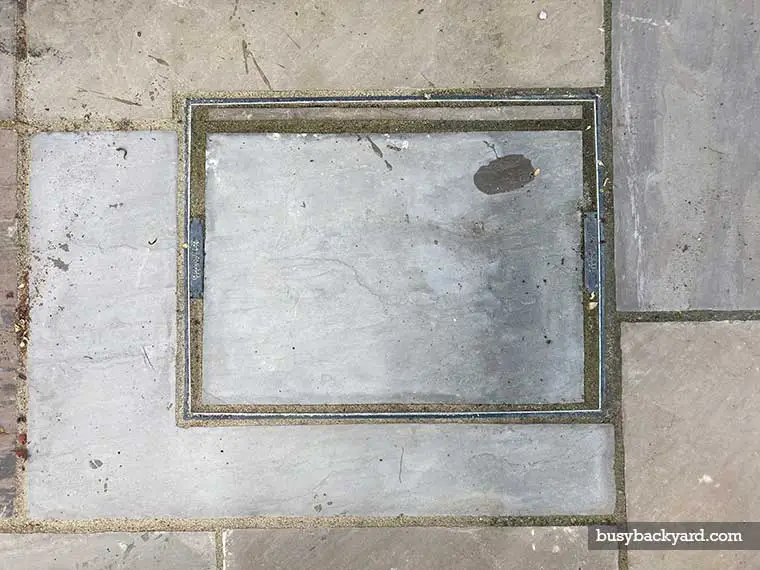 4. Create your own art mosaic drain cover disguise
Before we went for a stone disguise as shown above, we also considered an art mosaic drain cover. There are some amazing examples on websites such as Pinterest which people have used disguise the ugly drain metal covers in their gardens.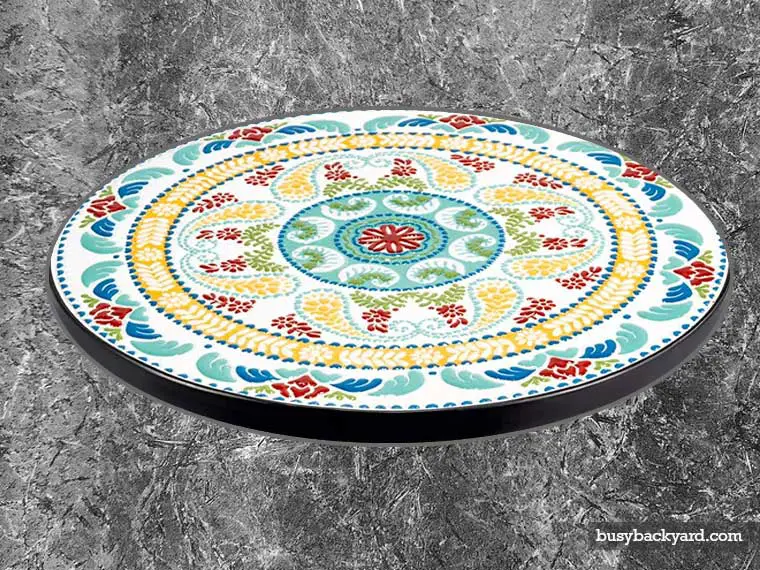 This is a project you will need to do yourself though. It will take time and require patience and creativity. I won't go into the instructions where, but you will need to break up small pieces of tile, colored glass, and so on which you can then glue to the existing drain cover.
Handy Hint: If you want privacy in your garden then check out these fast-growing plants that will quickly grow into a screen.
5. Paint the drain cover
Whilst this won't disguise drain covers in your garden, it will make them look beautiful and add a fantastic talking point when guests come over. 
There are some fantastic examples online that I have seen online of what look you might be able to achieve in your own garden. Do a quick Google search for inspiration on covering a drain cover with your own art.
6. Disguise the drain cover with a birdbath or bird table
If you love nature and live near forested areas near birds, choosing a birdbath seems obvious. A birdbath or bird table will make for a pleasant pastime when they come and indulge themselves in the water.
Most birdbaths are pretty small compared to drains so look for one with a large base like this one I found on Amazon.com.
7. Disguise the drain cover with a firepit
On a similar tip, firepits can work very well over drain covers, offering great coverage and a practical garden accessory that you can use in the summer. 
We own a fire pit, and (as with most things) bought it on Amazon.
8. Disguise using a grass lid if the drain cover is on the lawn
The best option to cover a drain cover when on a garden lawn would be a fake grass lid. The idea of pot plants and birdbaths might be good ones but if like us you have a young boy who likes kicking a ball, they don't work too well. 
You can make one yourself by purchasing fake grass online. There are different brands and dimensions available on Amazon.com.
Handy Hint: Have squirrels starting digging up your lawn? Here's how I managed to stop them digging my garden.
9. Buy a prettier drain cover than what already exists
If you don't like any of these options for disguising your garden's drain covers, perhaps you just invest in a new, but better-looking drain lid cover? I like the one below.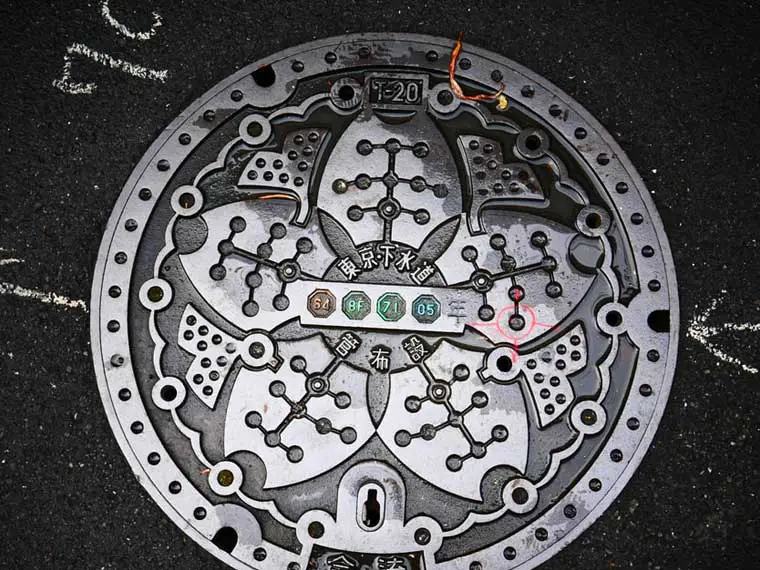 Here are some tips on what to look for…
Don't just think you can build on top of the drain covers. You might be tempted to put things like outdoor dog playhouses on top of drains, or even build straight over them, but as mentioned, they must remain easily accessible to stay functional. 
So why must drain covers remain accessible?
Allow drains to be inspected when required.
Drain covers allow easy access for the underground system to be cleared and cleaned.
Some work as temporary water storage points for excess water from drainage systems to avoid flooding.
Armed with this information, we knew it was vital to keep them accessible at all times. But the problem remains: what are we allowed to do if we cannot block the drain covers?
Handy Hint: Tips on hiding transformer boxes in backyards.
Approval and permission on drainage covers
There is good news for homeowners looking to build on top of drain covers in some states and counties. Depending on the state you are living in, you have to get permission and approval to build.
Making any changes without written approval can have legal and financial repercussions, which you don't want.
When the approval does come through, you will most likely have to move the drainage by adding pipes to the new diverted area. Be prepared to do a lot of paperwork, and if that's not doable, change the building plans to accommodate the drainage.
Conclusion
You can spend a lot of time turning your garden of backyard into a utopia, but if there's an ugly drain or manhole cover in sight, it can completely chance the ambience.
Thankfully though, there are a few ways as I've described which you can use to disguise or cover drain covers in your garden, so I hope the tips have helped.
You might also like…